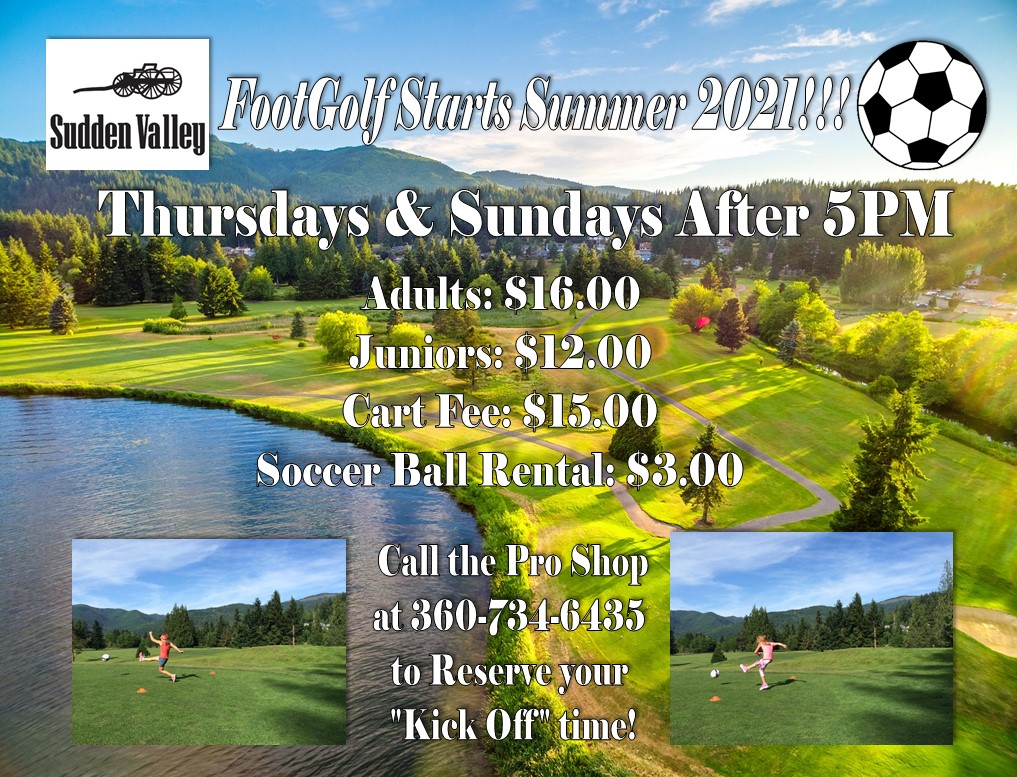 FootGolf is a new sport being played on many golf courses throughout the world and as you might assume, combines the sports of soccer and golf. FootGolfers kick a regular soccer ball into a large (21" in diameter) hole cut into the ground. Like golf, the holes are designed to be par 3's, par 4's or par 5's. Because the sport involves kicking a soccer ball instead of hitting a golf ball, the holes are significantly shorter, so we were able to layout 18 FootGolf holes within the front nine of our spectacular golf course. The FootGolf "greens" are set well in front of our actual golf greens so we don't have to worry about any damage to the golf course.
One of the coolest things about FootGolf is that ANYBODY can play. Even if you've never kicked a soccer ball in your life, you can easily play a round of FootGolf. It is a great family activity and something that can be enjoyed by all age groups. Up to 6 players can play together in a group and it takes only about an hour and a half to play a round!
Our course promises to be one of the most visually stunning courses anywhere as it is staged on our scenic front nine that juts out into Lake Whatcom. If you are a non-golfer who has been waiting for an opportunity to spend an evening on our beautiful golf course property, you need wait no longer. A fun round of FootGolf with your friends and/or family will be the perfect excuse to get out and enjoy some of our beautiful summer weather while experiencing the exciting new sport of FootGolf!
FootGolf will be available every Thursday and Sunday evenings through September from 5:00 pm until dusk. Fees will be $15 for adults and $12 for juniors (17 & under). Sudden Valley property owners will pay just $14 for adults and $10 for juniors. Soccer balls will be available to rent for $3. Golf carts will also be available to rent for $15 (Must be 18 or older to rent).
Soccer cleats are not allowed.
The back nine will remain open for regular golf during the times the front nine is being used for footgolf.
Sudden Valley FootGolf Scorecard
For more information on FootGolf, check out these video links!
Nike FootGolf Commercial Featuring Rory Mcllroy and Wayne Rooney of Manchester United